Metal Plaques
Cast metal plaques in bronze, brass or aluminum.
Etched metal plaques in stainless steel, bronze, brass or copper.
Order Metal Cast Plaques Online - Order Metal Etched Plaques Online
Thin Gauge Plaques
Precision milling of aluminum, brass, bronze, and copper produces high quality plaques in 1/8" thick material. These plaques have the same lifetime warranty as all of our other products.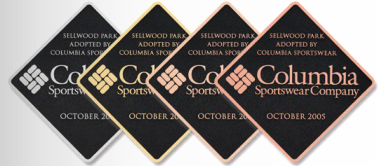 | | | | | |
| --- | --- | --- | --- | --- |
| Total Area | Aluminum | Brass | Bronze | Copper |
| Up to 24" | $42 total | $55 total | $57 total | $76 total |
| 25-100" | $1.67 / sq in. | $2.18/ sq in. | $2.26/ sq in. | $3.00/ sq in. |
| 101-249" | $1.50/ sq in. | $1.95/ sq in. | $2.03/ sq in. | $2.70/ sq in. |
| 250-576" | $1.33/ sq in. | $1.73/ sq in. | $1.80/ sq in. | $2.40/ sq in. |