Formed Plastic Gemini Sign Letters™
Options: Font Styles - Letter Sizes - Colors - Mounting Options - Symbols & Logos
Gemini's Formed Plastic Sign Letters offer the greatest variety of dimensional plastic letters available today. They are beautiful and are available in many forms from traditional fonts to ornamental and script styles. These high-quality sign letters are molded with flat, round, prismatic, and sculpted faces. Each letter reflects light in its own unique way.
Made from the finest non-oil based plastic material, C.A.B. - these sign letters are guaranteed not to chip, crack, or fade and come with a lifetime guarantee.
Gemini's Plastic Sign Letters are also better for the environment. The letters are made from organic ingredients and all excess material is recycled in the manufacturing process.
Formed Plastic Sign Letter Fonts
Our plastic letters are available in over 100 font styles. Each plastic font specifies a flat, round, prismatic, or beveled face so you can choose your letter font based on the effect you want to achieve. For custom fonts in formed letters and logos call Gemini at 800-270-3343.
Formed Plastic Sign Letter Colors
Plastic Letters and Logos are available in 40 standard colors. Additionally, Gemini carries a large selection of paint colors for plastic so that letters can be created to match your design specifications. Gemini plastic letters and logos are also excellent for gold-leafing if you require a metal appearance.
Formed Plastic Sign Letter Sizes
We provide you with a chart of our current letter sizes to help you choose the correct sizes of your plastic letters. Some styles are exclusively uppercase fonts while others are also available in lowercase letters. The sizes of upper and lower case plastic letters are already matched for you. If your design calls for plastic letters with a non-traditional font match please contact Gemini at 800-270-3343.
Mounting Methods for Formed Plastic Sign Letters
Various installation methods are available for plastic letters depending on your application. We also provide you with installation instructions and hardware mounting supplies for all of our letters including formed plastic.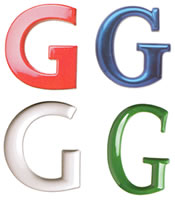 Why Buy Gemini Formed Plastic Sign Letters?
We have over 100 standard styles and 30 standard colors
can be painted in multiple colors to replicate your design
are excellent for gold leafing giving the appearance of metal
are shipped within 3 business days
Guaranteed For Life!
Gemini Signs is an Authorized Reseller for Gemini Incorporated. If you are a sign company and currently have an account with Gemini Incorporated, please call them directly.